How did SPARKLES! COME TO BE?
WE STARTED AS AN IN-HOME PRESCHOOL!
Sonia Valdizan, founder of SPARKLES! Early Learning Academy, started Sparkles! as a home-based daycare business in 1991, as a way to be with her own children while sharing her dedication to early childhood education. What started with one child in a county-regulated home daycare, quickly grew to a state-licensed home daycare center. By 1999, SPARKLES! greatly expanded by opening a state-of-the-art complex with capacity for 75 children in Fair Oaks, Virginia.
Once SPARKLES! opened up its state-of-the-art facility at Fair Oaks, we got busy! We updated our approach to Creative Curriculum as we love how this innovative approach to early learning really helps build exemplary students and properly prepares them for the world after Preschool! We hired new dedicated teachers, which are selected for their experience and shared passion for providing quality childcare. These values match Sonia's vision of creating an unparalleled learning and growth environment in the childcare industry. This environment allows us to continue to, as she emphatically states, "grow and glow."
Before we knew it, the school doubled its number of students and staff in the Fair Oaks Center to a capacity of 158 children.
In 2010, Sparkles! at Fair Oaks, LLC was awarded a contract with Fairfax County Public Schools to provide before and after school care at White Oaks Elementary School in Burke, Virginia through a competitive proposal process.
Our parents were so impressed with our curriculum and the milestones their children were achieving that by August of 2011, growth continued with the opening of Sparkles! at Crystal City with a capacity of 108 children!
In 2016, Sparkles! announced its "Building Tomorrow's Leaders" initiative. This works in parallel with Creative Curriculum, a proven, research-based set of resources. The Creative Curriculum is designed to produce creative, confident thinkers that are prepared for school and life success. Our leadership initiative further encourages development in five key social skills that are necessary for children to excel today, tomorrow and for many years to come.
In present day, we continue using the Creative Curriculum approach and supporting as well as guiding parents in every step of the process. Our teachers are devoted to helping their students thrive and continue to provide support and high quality education standards through play-based learning meeting federal and national education requirements. 
We are committed to earning trust with the families that we serve, and to developing partnerships in the community. Our roots in home-based daycare continue to be evident in the Sparkles! culture. The primary goal has always been one of support for the working parent. Our priority is to give parents the peace of mind that their children are in the best of hands while they are away. Additionally, we have integrated a number of resources and activities that help parents remain connected to their child throughout the day. These include secure video streaming and regular progress reports (learn more.)
As Sparkles! looks to the future, we continue to explore innovative ideas to ever-improve as a support system for our families and our community. These efforts will help us to become an integral nurturing and educational part of your child's life.
SPARKLES! truly does help build tomorrow's leaders. 
When I started Sparkles! as a home-based day-care in 1991, I never realized that the business I started would one day become a "calling" for me. I started the business as a way to stay home with my own children. My intent was to provide the same level of care for other families' children that I would want for my own children, should they be separated from me.  When I was I child, I had witnessed the importance of trusting in a small community for child care, and felt the stress of being separated from my parents. My family had immigrated to the United States from Cuba, to escape the oppressing communist regime, upon arriving both of my parents started working right away and relied on others, "our little village", to care for my siblings and myself, that experience had a lasting impact throughout my life and became the cornerstone for Sparkles! 
It was because of this experience, that I wanted to support the working families by becoming an extended member of their families, and I knew that to build that relationship I would need to earn their trust one day at a time, one family at a time, and give them peace of mind while they went to work, just like it had been offered to us.  What started as a one child county-regulated home day care, quickly grew to a state-licensed home day care center. By 1999, we outgrew the home child care environment and expanded the business by opening a state-of-the-art complex with capacity for 75 children in Fair Oaks, VA.
During the early years, I was responsible for all aspects of the business including hiring staff, marketing, quality control, and compliance with state and local laws and regulations. By 2005, we undertook an expansion which more than doubled the size of the Fair Oaks Center to a capacity of 158 children.  Our goal has been to continue to grow by finding new and innovative ways to provide excellence in service, while keeping the family style culture of our roots as a home-based child care.  
Throughout this journey, it has been an honor to have been recognized as a small business leader by the Small Business Administration, Chamber of Commerce and to have been the recipient of the SmartCEO/BRAVA! Awards.  However, that honor must be shared with the Sparkles!s' staff, without them the Sparkles! success would not have been possible. Their dedication and commitment to Early Childhood Education and well-being of the children never ceases to amaze me.  The work with children is a "calling" and Sparkles! shines through them and because of them.  Our future looks bright as we continue to "Grow and Glow".
Gille Baez, Director of Operations
Joining the Sparkles! team in 2007, Gille focuses on organizational growth and supervision of the operations at each Sparkles! center. Over the years, Gille has become a childcare industry expert and has helped lead Sparkles! to become a local leader in education-based child care. Gille is passionate about maintaining an excellent Sparkles! experience for its children, parents, and staff. She holds a Marketing degree from Universidad Autónoma de Santo Domingo, and a Masters in Business Administration from Universidad Catolica Madre y Maestra the Dominican Republic.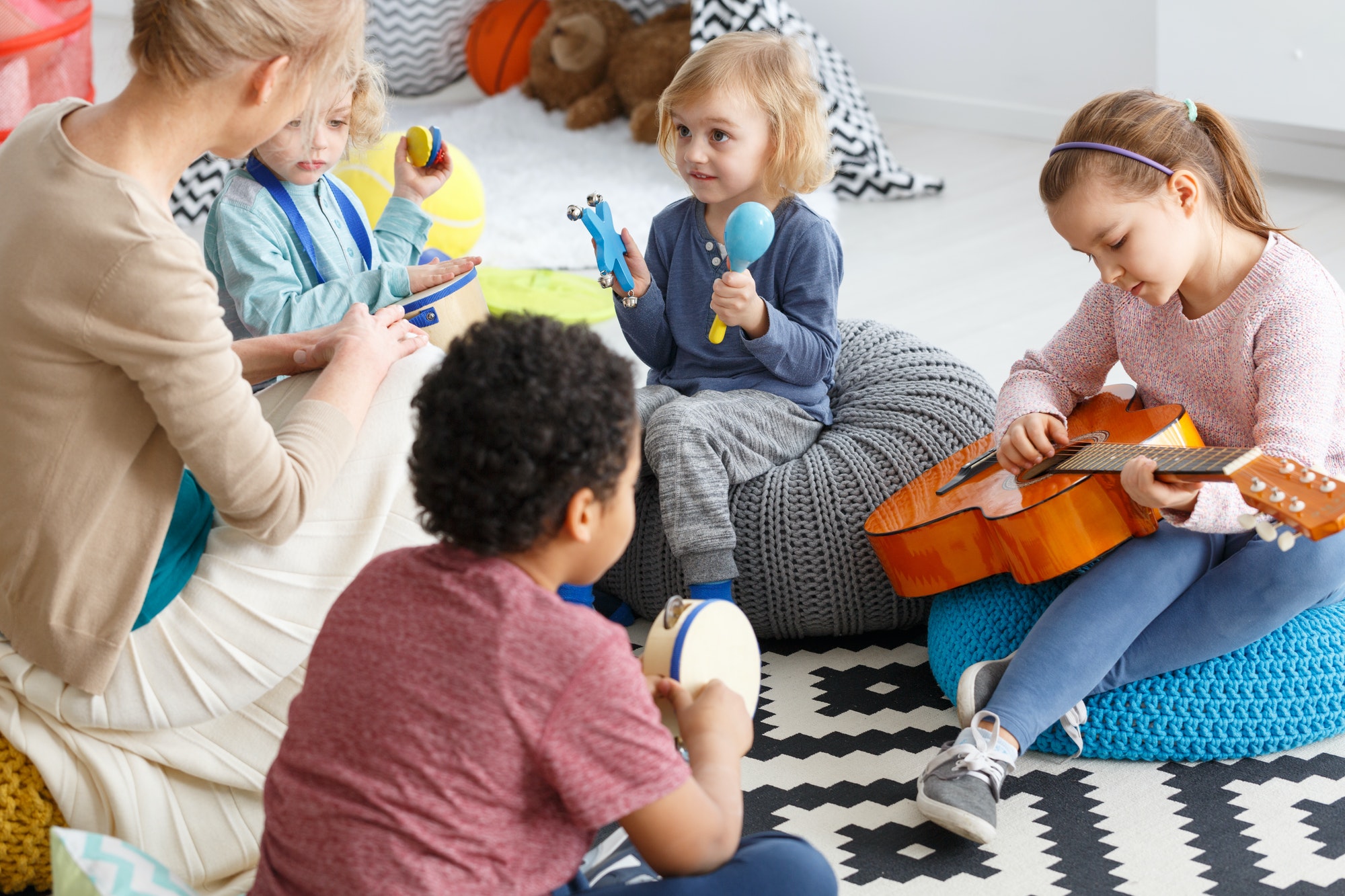 Cynthia Vande Linde, Director of HR
Cynthia has been working in the preschool industry since 2013. She joined Sparkles! because they are committed and deeply care about the service they provide to the children, parents and teachers. Since 2013, she has been leading the Sparkles! Human Resources Department. Because of her strong work ethic, standard of excellence, leadership and willingness to wear many hats, she is highly respected by staff, teachers, parents and children. Cynthia holds an Associates Degree from WVU and holds certifications through Paychex.
What Parents Say About SPARKLES!.
My 1 year old son started daycare here in August and he absolutely loves it! The teachers are all very involved and everyone greets him when he arrives. They aren't just 'babysitting', they are teaching them so many things. They keep you updated throughout the day with photos and notes. We couldn't be happier and know that while we're working our son is well looked after. We love one of his teachers so much that she now babysits for us outside of daycare. We'll send all of our children here while we live in Fairfax.
The Sparkles daycare is full of great teachers and staff. My kids enjoy going every day. Ms. Danielle is always willing to assist with any questions and concerns and is very knowledgeable. Ms. Ivory is my son's favorite teacher. My daughter loves all the games and activities that they offer. Again great staff and so helpful during these covid times.
My son absolutely loves going to Sparkles. He is currently with Miss Gladys and absolutely adores her. She is so involved with the kids and the projects she does with the children are wonderful. He's only two and comes home telling me about all the things he's done during the day. I am a teacher and work with him at home but I am constantly amazed at what he is learning in his class at school. We have had nothing but a great experience at Sparkles since I started him here at five months old...almost 2 years ago. All the teachers seem to really love and care for the students. We will be very sad when we have to move up from Miss Gladys' class, but so far I've had nothing but great experiences with every one of his teachers.
My kids love coming here. Danielle is the best! Every time you walk in she's there greeting you with a smile. She treats my kids like her own. Not only myself but my kids feel more than welcomed here. The whole staff here is nothing short of amazing. A few of my kids favorite teachers are Ms.Ivory, Ms.Jenni and Ms. Maize. All of them have had a positive impact on my kids lives. Being a single mom is tough, but with all of their help they make life a little easier. I wouldn't send my kids anywhere else!
Sparkles daycare is amazing there are tons of great staff from Ms. Danielle handling my payments and enrollments to Ms. Ivory taking care of my 7 year old helping with virtual learning and staying focused as possible. To passing Ms. Ashley's smiling face in the hall ways and she's always friendly and open to conversation . To the lovely ladies (Ms.Elizabeth, Ms.Geovana, and Ms.Trinity ) taking care of my wild and active 7 month old in the infant class. I really love this daycare its so clean and upkept the staff feels like family I would recommend them to everyone if i could.
Join Our Fun Preschool. Enroll Today!
Currently accepting new students  for our Preschool in Fair Oaks and Crystal City as well as our Summer Camp at our Fair Oaks location.