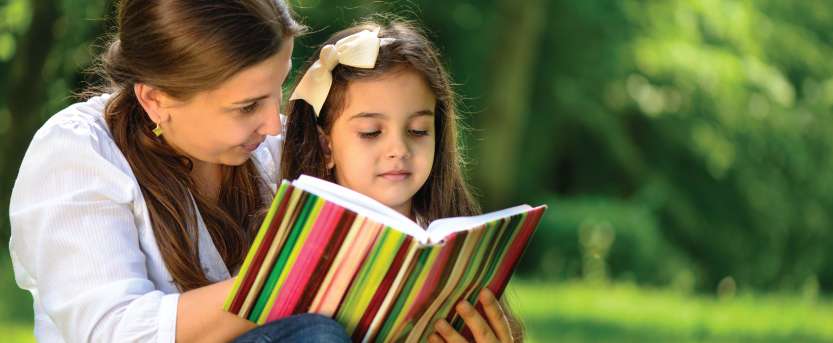 Guest Post | Kendra Kielbasa, Smart Beginnings of Greater Prince William As preschoolers approach school age, parents usually find themselves full of questions. Not the least of which is, "Is my child ready?" We have put together ways to build...
Read More
"The summer slide:" it reminds you of fun times at the park, but is actually a phrase for the loss-of-learning that can happen when children are out of school for extended periods. Studies indicate that teachers can spend months re-teaching forgotten ...
Read More
Here at Sparkles, we love reading, and reading to children is the most fun (we even wrote a book to read to our students!). It's an engaging, mind-stimulating way to educate and excite kids. Did you know that it's extremely beneficial to read to babie...
Read More
Spring break is just around the corner. But that doesn't mean that educational activities have to go out the window. Learning never truly ends, and Northern Virginia and Washington, DC are full of opportunities to combine learning and fun. We've c...
Read More
Many children may feel that eating dry cereal and fruit snacks for every meal is appropriate, but you know better. And while it may seem like you're re-enacting a Civil War battle every time you put something remotely healthy in front of your picky eate...
Read More
This March, we're joining our Lead PreK Teacher at Fair Oaks, Desiree, in her fight to help children with muscular dystrophy. The fundraiser will be both a friendly competition and a lesson in helping others. Please read more about why this cause is...
Read More
We've all been there. You're enjoying your morning cup of coffee thinking that it's time to get your toddler dressed for school, when she proudly enters the room dressed from head to toe in every color of the rainbow and more patterns than you could...
Read More
Cold, flu, nasty stomach bugs — it may seem like every time you turn around your child is fighting yet another winter ailment. It's very frustrating for parents and miserable for children. Though some winter illness is inevitable, there are precaution...
Read More
Even kids can ring in the New Year by setting some achievable goals for the months ahead, with a little help from the adults in their lives. Those over the age of 7 are forming habits and beginning to make long-term goals for themselves, making this a pri...
Read More
It warms your heart to see your little one's face light up when they open presents from Santa or get that special toy they've been dreaming of from a family member. And because this is such a rewarding feeling, sometimes we, as parents (and definitely...
Read More