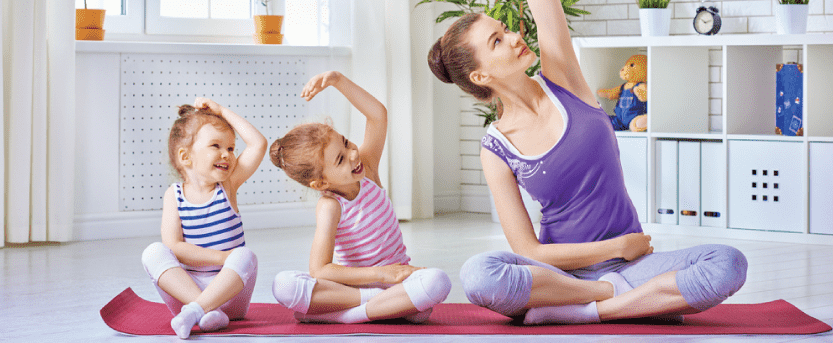 You often hear parents say time flies by so quickly when they're raising young children. Children grow exponentially in the first few years of life – it seems like you blink and they're completely changed. Learn about your child's physical development at varying stages and how you can support your child's development at home.
1 Month Old
During this stage, babies can't see more than 12 inches away from their faces and may enjoy black and white patterns. Their hearing is typically fully developed, and your baby may turn toward familiar sounds like your voice. Babies may lift their heads up briefly or turn to the side when on their stomachs. When you're holding your baby at this stage, you need to fully support his or her head and neck.
You can help with your baby's physical development at this stage by cuddling, talking and learning signals of hunger or sleepiness. Giving your baby tummy time and encouraging him or her to reach for toys will help strengthen your baby's muscles. Get close to your baby and make eye contact, and play simple games like peek-a-boo.
3 Months Old
At this stage, babies typically can smile and imitate other facial expressions. They are starting to babble and mimic sounds. You no longer need to fully support your baby's head, and your baby may even be able to push up his or her head and chest during tummy time. Babies can open and close their hands, bring their hands to their mouths and push down with their legs when you hold them in a standing position.
Continue giving your baby lots of loving attention, being responsive and giving tummy time daily.
4 to 7 Months Old
By the age of 7 months, babies usually can smile, laugh and babble, roll to their tummies and back, sit without support and bounce when you hold their hands.
You can help with development by integrating play into your everyday activities. Reading together, naming objects all around you and giving plenty of opportunities for baby to get more mobile help quite a bit.
8 to 12 Months Old
Babies are on the go during this stage. They begin crawling, scooting, cruising (walking while holding onto objects) and walking. Babies will begin to say real words during this stage and gesture to what they want.
You can help your child's development by giving him or her a safe place to explore (by babyproofing), incorporating sensory play and describing things to him or her as you do them.
1 to 2 Years Old
Toddlers begin to fine tune their mobility skills from ages one to two. They begin to walk by themselves, climb stairs, kick or throw a ball and run. Toddlers at this age scribble with a crayon, fill and empty containers and build towers out of blocks.
You can foster your child's physical development by providing plenty of outside playtime at a park or playground or in your neighborhood. Encourage your child to run around and explore. But make sure your childproofing keeps up with your child's increased mobility. For instance, if your child has a newfound love of climbing, make sure all shelves are tethered to the wall to avoid an accident.
2 to 3 Years Old
If you thought babies were on the go, preschoolers at this age are practically flying. They usually can better walk up and down stairs, pedal a tricycle and jump. Their fine motor skills are also improving. They can turn doorknobs and open containers, which necessitates a new level of babyproofing in your home.
You can help your child's development by still offering plenty of opportunities to play outside. Let your child play with other children in the same age range. Play plenty of educational and imaginative games.
At Sparkles! we foster learning through a curriculum that's developmentally appropriate for your child. For more information, contact a Sparkles! team member today. We'd love to talk about your child's needs and how our programs benefit children at each stage of development.