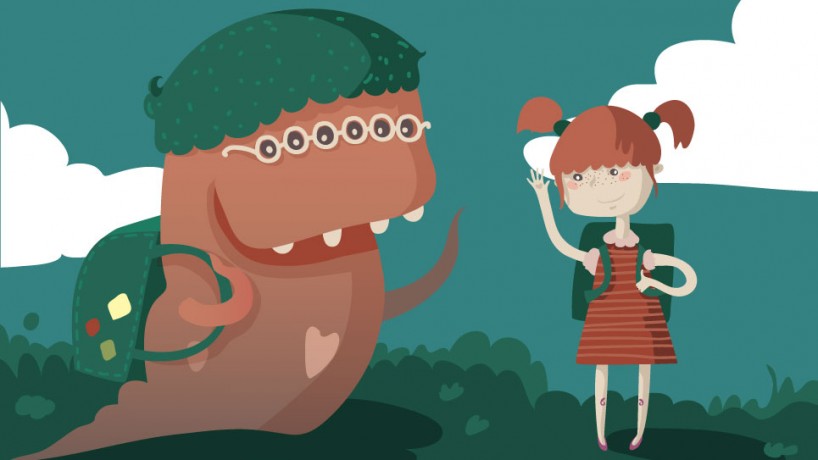 Often young children's fears manifest themselves as monsters. It's their way of putting a name to fears they don't yet understand. Many parents try to help soothe their children by telling them monsters aren't real. However, this isn't always the most effective way to reduce or eliminate your child's fears about monsters. Instead of feeling understood and protected, your child may feel like you're dismissing his or her fears. Here are some tactics for dealing with your child's monster worries.
Make monster repellant spray. Fill an empty spray bottle with a few drops of good smelling essential oil and water. Label it monster spray and decorate it together. At night before bed, you can spray the monster spray wherever your child fears monsters are coming from.
Watch a (friendly) monster movie together. Disney' Monsters Inc. explains monsters in a non-threatening way to small children. The monsters in the movie are just as afraid of children as children are afraid of them.
Go monster hunting. Bring a big garbage bag or box into your child's room and have him or her wait outside. Make some bumping noises and leave with a bag full of "monsters" (you can use balled up newspaper to fill the bag). Toss it in the dumpster.
Make a monster swatter. Decorate a new fly swatter as a monster swatter. You can use googly eyes and pompoms to make a fun craft and let your child sleep with this in his or her bed until all the monsters are gone.
Chase the monsters away with salt. Let your child know monsters are highly allergic to salt and sprinkle it in closets, on window sills, under the bed or any other place your child is worried that monsters may be lurking.
Come up with a bedtime ritual. Whether you figure out some magic words or a chant to make the monsters go away, empower your child to chase away his or her own fears. Recite the magic word or chant to make the monsters go away before bedtime. It can be as simple as "Abracadabra! Monsters, be gone!"
Investigate the monster problem with your child. Get your child's perspective on where monsters are coming from. Lie down with him or her in the dark to see if there are any household objects casting spooky shadows. Listen for things that go bump in the night and identify the household noises together. Sometimes squashing a fear of monsters just takes answering a few questions.
Read a monster book together. There are plenty of good titles out there you and your child can read together to help calm a fear of monsters. Check out There's a Nightmare in My Closet, There's an Alligator under My Bed, Goodnight, Little Monster, Go Away, Big Green Monster, Bedtime for Monsters or How to Catch a Monster.
Move your child's bed. Relocate the bed so your child can see the door. Leave the hall light on and leave the door open a crack to help alleviate fears.
Get help from pets or stuffed animals. If you have a pet, let your child know that your dog or cat keeps the house safe by eating all the monsters for dessert. If you don't have a pet, designate a special stuffed animal as monster lookout to protect your little one from monsters at night.
Use props. Keep a squirt gun, plastic sword or other pretend weapon near your child's bed to fend off things that go bump in the night. You could also attach magical protection powers to a certain blanket or arm your child with a flashlight (preferably with a timer on it) to help ward off monsters.
It's important to remember that like adults, children are complicated human beings. Sometimes believing in monsters is just a phase, but sometimes it can take other measures to alleviate your child's fears. If you have tried various techniques but scary monsters continue to lurk in your child's imagination, you may want to speak to a medical professional for more suggestions.