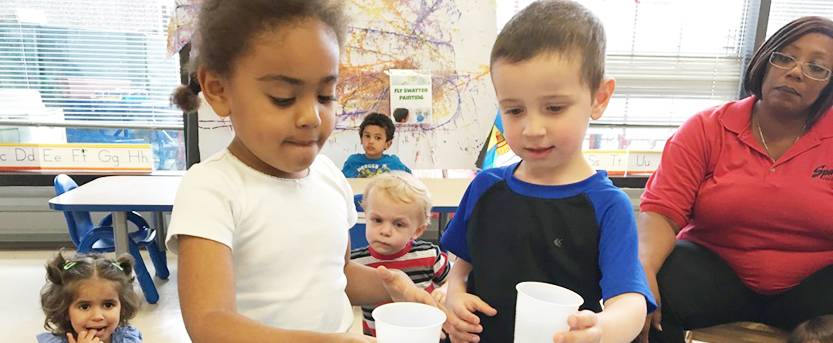 Chances are you have heard of the growing movement to increase STEM—Science, Technology, Engineering, Math—education in our schools. Studies show that STEM-based curriculum give children the educational background they need to understand the world around them, and to prepare them for the technology-centered workforce that they will one day enter.
More recently, this focus has grown to include art as another vital component of a well-rounded education, connecting the dots between technical knowledge and creative innovation. Enter STEAM.
 Where Left Meets Right
The left hemisphere of the brain is associated with logic and math, while the right hemisphere is associated with being artistic and creative. STEAM stimulates both sides, encouraging analytical and innovative thinking in children.
For the U.S. to remain a global leader in innovation, teaching the next generation to be comfortable with technology and scientific methods is just as important as encouraging their creativity. A Michigan State University study found that its STEM graduates who were exposed to the arts as children were more likely to be inventors, owning more businesses and patents than their less artistic counterparts.
Beyond product creation, and even in the most "left brain" industries, businesses rely on designers, writers and other creatives to market their wares. Introducing your child to STEAM can also prepare them for numerous fields where left and right brain thrive side-by-side, such as web design, architecture and R&D (research and development). Inventions, progress, the next big thing…this takes place where technical skills and creativity intersect.
Why STEAM for Preschoolers?
With more studies showing the importance of STEAM, many K-12 schools are integrating this type of learning into their curriculum. Preschools can prepare youngsters for a STEAM-based education, introducing them to these foundational areas of study in a way that is fun and encourages a love of learning.
Much like reading to preschoolers, early exposure to STEAM makes these topics feel familiar by time they reach kindergarten, increasing their confidence and educational success. At Sparkles!, we follow the Creative Curriculum®, which incorporates elements of STEAM, helping "teachers build children's confidence, creativity and critical thinking skills." For an even more immersive approach, we offer PreK STEAM, a half-day kindergarten readiness program that uses a hands-on, project-based approach to cohesively integrate science, technology, engineering, art and math.
Introducing your child to STEAM at an early age will help to prepare them for kindergarten, and a lifetime of creative exploration. (Click below to learn about our new PreK STEAM kindergarten readiness program at Sparkles! at Fair Oaks.)