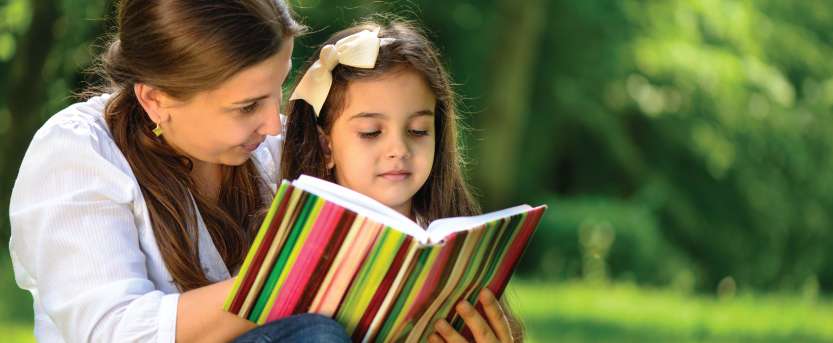 We all want to give our kids the best head start on education that we can. Teaching children to read at an early age can help give them a leg up academically and inspire a lifelong love of learning. Here are some ways you can help encourage your child to become an early reader.
Read to your child, early and often. It's never too early to start reading to your child. Even reading to your newborn baby has benefits. Start off reading a few books a day to your child and increase reading time with his or her growing attention span. For babies from birth through one year, read cloth books, board books with pictures, lullabies and song books. For children 1 to 3 years old, try song books, short-story board books and rhyming books. For children 3 to 5 years old, read alphabet books, picture books, rhyming books and song books.
Make reading an interactive experience. Teach your child to interact with the book and better comprehend what's happening in the story by asking questions. Reading goes beyond just sounding out the words. Comprehension is a major aspect. When reading with younger children, you can ask them to point out things in the pictures like "Do you see the ball? Point to the ball." When your child gets older, between the ages of 2 and 3, you can begin to ask more complex questions before, during and after the book. Ask your child what may happen next in the story and after reading, ask if those predictions come true.
Lead by example. If you want your child to be an avid reader, you can't just tell him or her to read. You have to show your child that you also love reading. Make it a point to allow your child to see you reading for yourself a few minutes each day. It doesn't matter if it's a magazine, newspaper or a novel – leading your children to read by example is the best way to encourage a love of reading in the household.
Teach letters using your everyday surroundings. Print is all around us every day, so use interactions in the world to identify letters and what sounds they make. A trip to the grocery store can easily be made into a day of learning when you use the tools that are there in front of you.
Use sensory play to help children learn to read. Things children learn tend to stick if you stimulate multiple senses when teaching them. This is why hands-on learning exercises work so well. Once you've started working with your child on letters and their sounds, you can begin working with hands-on letter learning activities. Making crafts with different letters of the alphabet is a great way to help your child truly absorb information about each letter and the sound it makes, while also aiding with fine motor skills. Songs and rhymes are also a great way to teach letters and their sounds.
Work with word families. Word families are essentially rhyming words. Putting together words in their proper families helps children see patterns in reading. This helps children branch out their recognition of a word like "mouse" to also recognize "house" and "louse," because they share similar sounds and letter patterns.
Practice sight words. Sight words are the most frequently used words in written language. They don't always follow the same rules of phonics, so they're often difficult for children to decode. These words need to be memorized. There is so much more to reading than just memorization, but these particular words must be memorized in order for your child to gain fluency in reading. Don't get overwhelmed by lists of sight words. Break them down and teach them a few at a time using game structure and before you know it, your child will be reading like a champ.
Are you curious how the teachers at Sparkles! teach reading skills? Contact a team member. We'd be happy to talk about our curriculum, what happens in the classroom and how you can support your child at home.