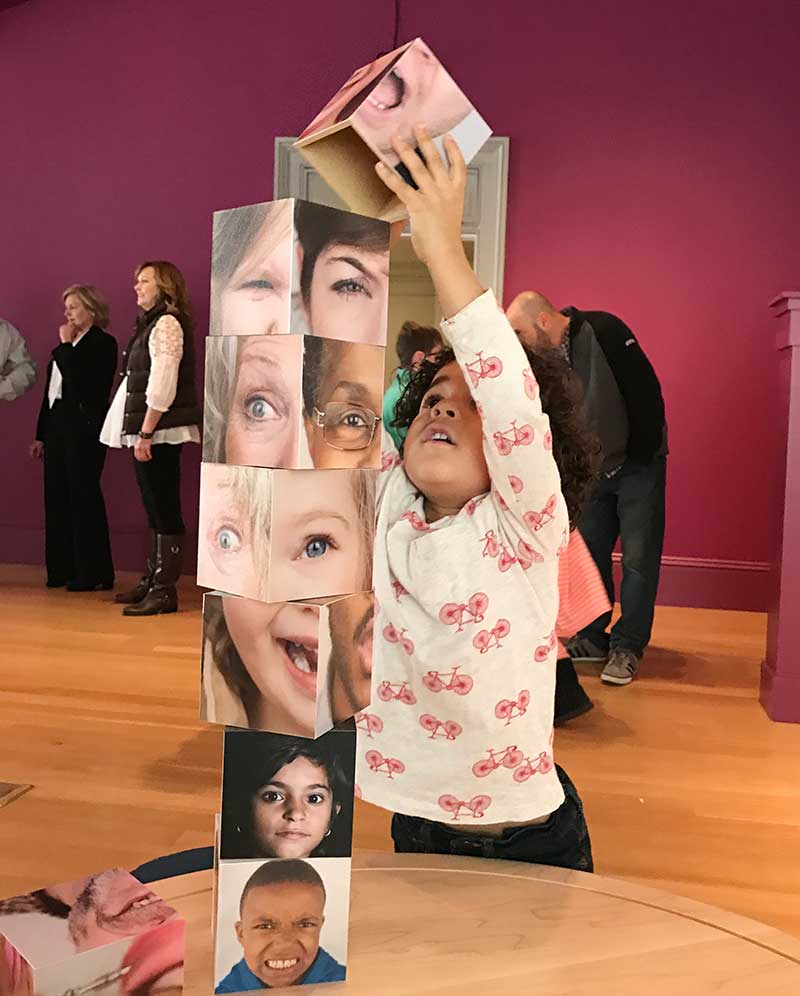 Spring break is just around the corner. But that doesn't mean that educational activities have to go out the window. Learning never truly ends, and Northern Virginia and Washington, DC are full of opportunities to combine learning and fun. We've compiled a list of some area activities to get your spring break exploration started.
When you think of taking your child to a portrait gallery, you likely envision a day of begging your bored child to revert to their inside voice, as they ask "how much longer?" for the twentieth time. The National Portrait Gallery, in collaboration with Explore! Children's Museum, changes all of that. A specially designed section of the gallery now invites children age 18 months to 8 years to interact with portraiture through a variety of age appropriate, hands-on activities. These include silhouette tracing, posing for video art and using blocks to design portraits. Free admission.
Local farms are starting to bloom and grow now and are a great way to reconnect children with the food they eat every day. The Spring Festival at Ticonderoga Farm in Chantilly is March 25 through April 23. It also offers slide hills, jumping pillows, hayrides, animal feeding areas, pedal kart track and a swinging bridge. This is just one of many farms in Virginia that are available to tour and shop, so take your pick.
You may be familiar with the Smithsonian's Air and Space Museum in Washington, D.C., but did you know they also have a location in Chantilly, Virginia too? The Steven F. Udvar-Hazy Center is a restoration space for the DC museum's displays. You can view the restoration process, watch planes take off and land at Washington Dulles International Airport, browse archives in the reading room, and, of course, take in the exhibits. The museum also has story times, science demonstrations, ride and flight simulators, and an IMAX theater. Check the calendar for STEM (science, technology, engineering, math) activities! Free admission; paid parking.
Watch artists in action at the Torpedo Art Factory Center. It doesn't just have a cool name — this artist's haven was actually used as a torpedo factory during World War II. Now, more than 165 artists fill over 80 studios where you can purchase their art and actually watch them create it, too. In addition to the studios, there are seven galleries, two workshops, an archaeology museum and a café. It also offers art classes for children, teens and adults. Free admission.
Kid-Friendly Museum & Theatre (Fredericksburg)
Historic Fredericksburg has a number of ways to indulge your child's creative energy. Start with the Children's Museum of Fredericksburg, an extension of the Children's Museum of Richmond, is home to many interactive exhibits. Exhibits include: grocery shopping (complete with a scanner that beeps), a bank, dentist office, diner, dress-up bin and an art studio. Pack a lunch and take a break in the cafe area. Admission is good for the full day.
In the evening, introduce your child to the world of live stage acting at The Riverside Theater in Fredericksburg, which offers a separate children's theater, with shows on Tuesdays, Thursdays and Saturdays. You could call this "lunch theater," as they offer a lunch that can be eaten during the show. There is a kid-friendly intermission for the inevitable potty break, and you get to meet with the cast after the show. The cast will chat with visitors and sign playbills, all while staying in character.
We'd love to hear about your favorite kid-friendly hangouts in the Washington, DC metro area, especially ones that bring together learning and play–share in the comments, or on the Sparkles! Facebook page. Also, our teachers can't wait to hear about all your child's adventures. Now, go have some fun!