As your child grows and moves through all the developmental milestones, you'll notice major changes in the way he or she reasons, thinks and solves problems. These changes are due to cognitive development. Understanding where your child is cognitively a...
Read More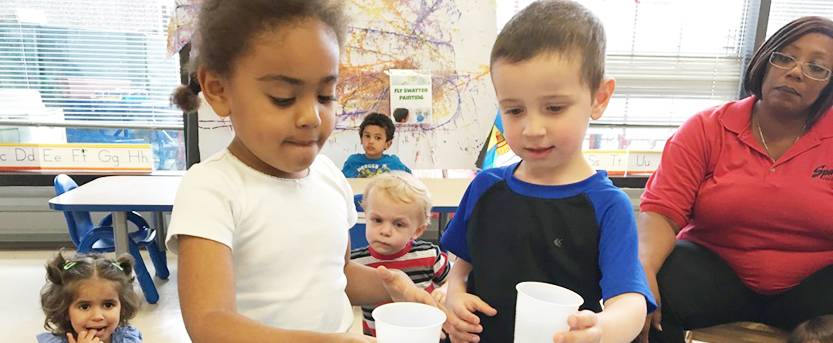 Chances are you have heard of the growing movement to increase STEM—Science, Technology, Engineering, Math—education in our schools. Studies show that STEM-based curriculum give children the educational background they need to understand the world aro...
Read More
During the White Oaks Elementary School Open House, Sept. 1, from 3 to 4 p.m., Sparkles! is also welcoming families to learn about and register for our trusted before and after school program.  More than just a daycare center, Sparkles! White Oaks provid...
Read More
Sparkles! is proud to be a sponsor of the Freeze Bullying Walk, Run, Roll on Oct. 29, 2016, which benefits Payton's Project, a campaign to raise awareness about bullying and put a stop to it. We invite Sparkles! families to join us that day; it's ...
Read More
Fairfax Educational Centers Host Payton's Project Speakers for National Bullying Prevention Month Sparkles! Early Learning Academy marked National Bullying Awareness Month with presentations for its before and after school care programs at its Fair Oaks...
Read More
Even kids can ring in the New Year by setting some achievable goals for the months ahead, with a little help from the adults in their lives. Those over the age of 7 are forming habits and beginning to make long-term goals for themselves, making this a pri...
Read More
This March, we're joining our Lead PreK Teacher at Fair Oaks, Desiree, in her fight to help children with muscular dystrophy. The fundraiser will be both a friendly competition and a lesson in helping others. Please read more about why this cause is...
Read More
Spring break is just around the corner. But that doesn't mean that educational activities have to go out the window. Learning never truly ends, and Northern Virginia and Washington, DC are full of opportunities to combine learning and fun. We've c...
Read More
Sparkles! Early Learning Collecting Diapers & Wipes for Shelter House, Inc. at Crystal City & Fair Oaks Most of us are trained to think of November as time to donate food to area food pantries. This October, Sparkles! Early Academy is encouraging ...
Read More
The predictability of routines is reassuring to children, giving stability and order to their day.  Through repetition, routines also allow children to learn good daily habits and develop self-reliance. The most important of these are perhaps at the star...
Read More