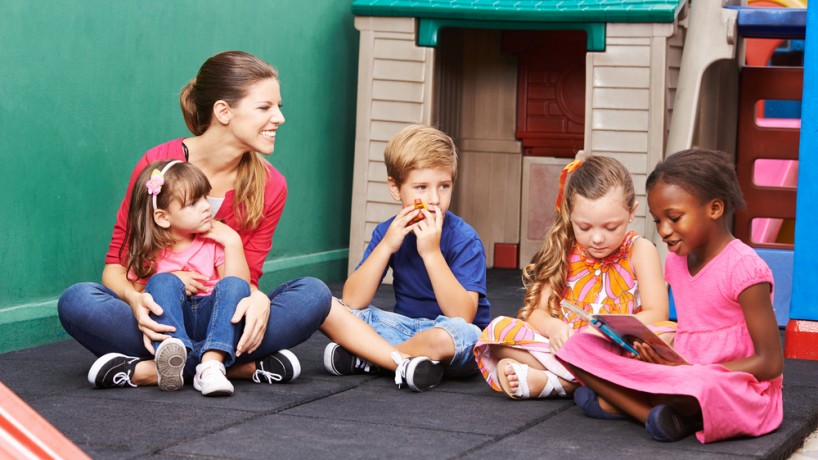 Preschool is such a fun time for students and teachers alike, but it takes a special kind of person to handle a classroom full of 3- to 4- year olds. Small children are little balls of energy, requiring an energetic and patient person to teach them. But that's not all a preschool teacher must have. Here are some qualities you should look for when researching preschools for your little one:
Organized – Without organizational skills, a preschool classroom can quickly fall into chaos. Look for a neat classroom with a place for everything, easy access to toys and other learning materials and designated space for kids to interact one-on-one and in groups. Of course, a preschool classroom isn't always going to be spotless while the children are at work and play, but there should be a method to the organization of the room and the lesson plans for the day.
Structured – Preschool prepares children to learn in a structured environment, a skill they will need for the rest of their formal education and throughout life. The preschool experience should be designed to help children become comfortable with structure and to nurture organizational and thinking skills. Don't worry if your little one chafes at routine or regimen. Most children respond well to structure if there is also flexibility.
Flexible – When you're working with kids, sometimes no matter how organized you are, plans need to change. You need a teacher who can improvise as needed and adapt to situations as they arise.
Patience – Observe how the teacher interacts with the children under his or her care. Teaching children structure is no easy task and requires a lot of patience to deal with many children asking rapid-fire questions all day long. Patience probably comes naturally to most people going into early childhood education, but the skill is finely honed through years of experience.
Nurturing – When preschool teachers love what they are doing, you sense it. If the teacher actively listens to the children, answers them in a respectful way and provides the opportunity to share feelings and ideas, you're dealing with a nurturing teacher who can help your child flourish.
Communicative – You want your preschool teacher to communicate effectively with both you and your child. A teacher who keeps you in the loop and makes your child feel heard is definitely a keeper.
Responsible – A preschool teacher isn't just there to teach shapes and colors. He or she is also there to keep your little one safe throughout the day. This is a huge responsibility, so you need a teacher who understands the importance of this aspect of the job.
Empathetic – Small children are quick to get frustrated when they don't feel heard or understood. A good preschool teacher will be empathetic to this frustration and know how to work with your child to get to the root of his or her frustration and turn each day into a productive and fun day.
Creative – Different children learn in different ways and at different speeds, so a successful teacher needs to get creative and adapt his or her teaching style for individual students. You can follow a defined curriculum and still make the material work for each student with a little bit of outside-the-box thinking.
At Sparkles! you'll find all of these qualities in our teachers. We love what we do, and it shows. Pay us a visit today so that we can meet with you and your little one and show you how we do preschool.